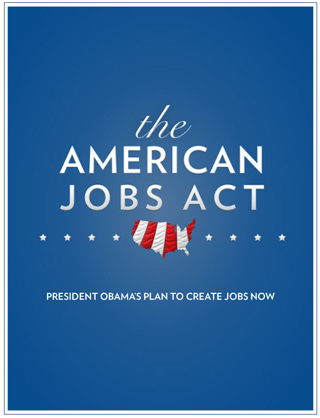 A 3.1 percent reduction in the Social Security tax for employers on the first $5 million of wages paid and a full employer Social Security tax credit for increasing wages year-to-year are among the key provisions of a proposal by President Obama to create more jobs and stimulate the economy.

The proposal, presented September 12 to Congress as the American Jobs Act, also calls for a further reduction in the employee portion of Social Security to 3.1 percent, an extension of unemployment insurance, and tax credits for hiring long-term unemployed workers, including injured veterans.
Temporary Tax Credit for Increased Payroll
For the fourth quarter of 2011 and all of 2012, the proposal would include a payroll tax credit that would fully offset the employer Social Security tax that otherwise would apply to increases in wages from the corresponding period of the prior year, the administration said.
For example, if an employer paid Social Security taxable wages of $5 million in 2011 and $6 million in 2012, the company would be entitled to a credit toward its portion of Social Security taxes due for the $1 million in increased wages, or $62,000. The maximum increase in wages available for applying this credit would be $50 million. According to the proposal, the credit generally would be available to all employers except Federal, state and local government employers, other than state colleges and universities, or employers of household workers.
Watch The White House Video: President Obama Answers Questions on the American Jobs Act
Further Reduction in Employee Social Security Rate
Another piece of Obama's package, originally unveiled September 8, would expand the Social Security payroll tax cut enacted in December 2010 that is scheduled to expire December 31, 2011. For 2012, the proposal would further reduce the Social Security portion of the payroll tax paid by employees to 3.1 percent. Employers now are withholding 4.2 percent from employee pay, reflecting the existing temporary reduction from the permanent 6.2 percent rate that was enacted in 2010. The expansion and extension would put $1,500 in the hands of the "typical working family" for 2012, Obama said.
Incentives for Hiring Seen as Impetus
The goal of cutting the payroll tax to 3.1 percent for employers on the first $5 million in payroll is to aid small businesses. "We wanted to make sure that we had something that was clear, simple, [and] understandable for all small businesses in our country, but also would give a clear incentive for additional hiring [and] raises for additional workers," an administration official said.
The employer reduction applies to up to $5 million of wages that are paid by the employer, the administration said. With limited exceptions, the reduction in amounts paid by employers is available to all employers except Federal, state, and local government employers, other than state-funded colleges and universities, or with respect to household workers.
Congressional Republicans are not thrilled with the idea of extending an expiring payroll tax cut, but faced with the prospect of voters' paychecks decreasing at the start of 2012, they might be forced to accept Obama's request for an extension, analysts said.
However, Dean Baker, co-director of the Center for Economic and Policy Research, said in an e-mail to BNA that he cannot see any point in extending the tax credit to employers. "They are already sitting on huge piles of cash," he said. "I can't see them increasing investment or hiring to any significant extent just because we give them even more money."
Watch President Obama's Address to Congress Unveiling the American Jobs Act on CBSNews.com
The information for this blog posting comes from the BNA (Bureau of National Affairs) Payroll Administration Guide Newsletter dated 9/14/2011. Learn More About BNA's Payroll Library and How to Sign Up for a 7-Day Free Trial.